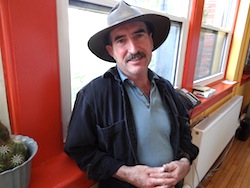 Paul Griffin began his artistic training at Mount Allison University in 1988 completing his BFA in 1992 and then moving to Ontario where he completed his Masters of Fine Arts at University of Guelph majoring in photography, installation and sculpture.
While completing a Masters of Fine Arts at University of Guelph Paul began to fuse the practice of photography and sculpture. He created combines and amalgams that spoke to the unarticulated creative tension that exists between objects we use everyday and the hidden thoughts and/or emotions that attach themselves to those objects. After returning to Sackville Paul taught a Mount Allison University and University of NSCAD in a large number of disciplines. His present work combines photography and sculpture and over the last number of year moved into larger installation work that juxtaposes natural elements and industrial objects and everyday construction items and methods.
His ongoing work is a search for art that speaks directly to the viewer; work that highlights and explores the uncommon beauty of everyday objects. He has continued this exploration to create more complex hybridized sculptures utilizing elements that we take for granted and placing them in a new light that imbues them with meaning, relevance and maybe even beauty.
Contact information: griffinpaulb@gmail.com
pgriffin@mta.ca
website: paulbgriffin.com